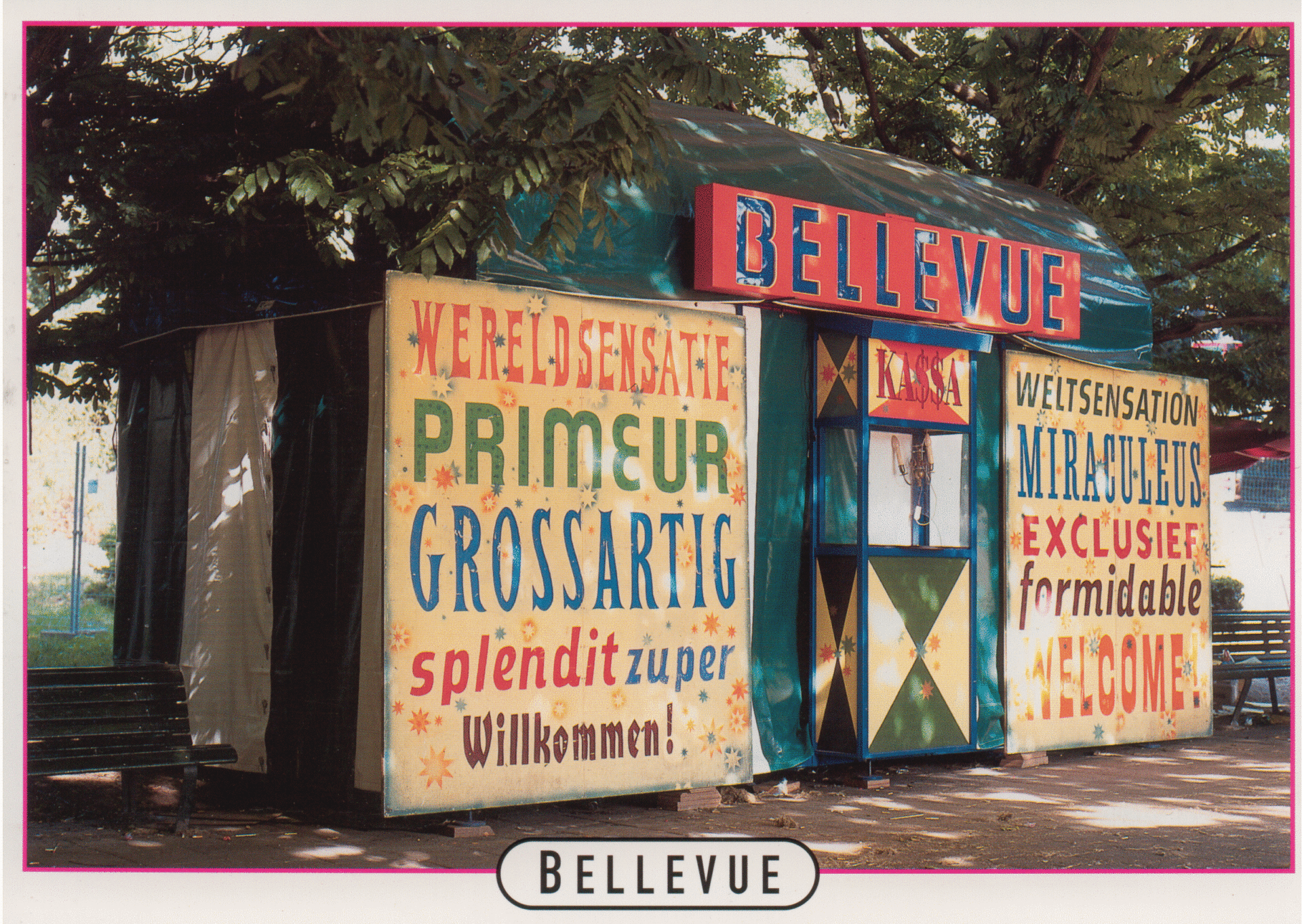 The Wild West / Bellevue / Lunapark / Time Machine / Oriental Delight
This is theatre from granny's days. Outside the small circus tent De Stijle, Want… entertains the waiting audience. Inside, in small groups, you choose your own star. Less than a minute later you leave the tent with a souvenir for life. And you don't say a thing.
De Stijle, Want… is a secret pleasure. Those who want to know, have to go inside. De Stijle, Want…  produces the greatest show for the smallest public.
The Wild West
The challenge, the threat, the adventure, the victory, the heroics, the thrill. You, yes you, will find the treasure no golddigger has ever found. Your luck will last forever. All alone, faster than your shadow.
Lunapark
At dizzying speed the visitor experiences everything the fair can bring: excitement, thrills, fear, shortage of breath, relief, fun and ecstasy. Outside the tent the street entertainers raise the blood pressure considerably. Inside, time flies and the visitors are vigorously brought face to face with each other and themselves. The inevitable consequence is the hearty laugh when it's over, which for more than twenty years has been the trade mark of this Dutch theatre export.
Nine people at a time pass through this jolly sensation that lasts about 1 minute 23 seconds.
For adults and children over one and half metres tall, for three hours.
Oriental Delight
De Stijle, Want… brings the most intense and deepest delightful Turkish experience of Ottoman size, Byzantine magnificence and Düden Falls force. Enjoy the pleasure of watching bellydancers and oil wrestlers between the fairy towers of Cappadocia, playing Tavla in Kusidasi, smoking water pipes with the harem of the Topkapi Palace, feasting Turkish tea, maras ice, Efes pilsen, baklava, döner kebab, lokum and raki, dreaming of being that camelfighter in Efese and listening Turkish music with tooooo much echo. Only one lucky visitor per show will undergo this immense Eastern pleasure that (alas?) will be over within one minute. The afterglow is infinite.
De Stijle Want
Genre:

Sideshow / Street

Performance period:

on demand
Calendar